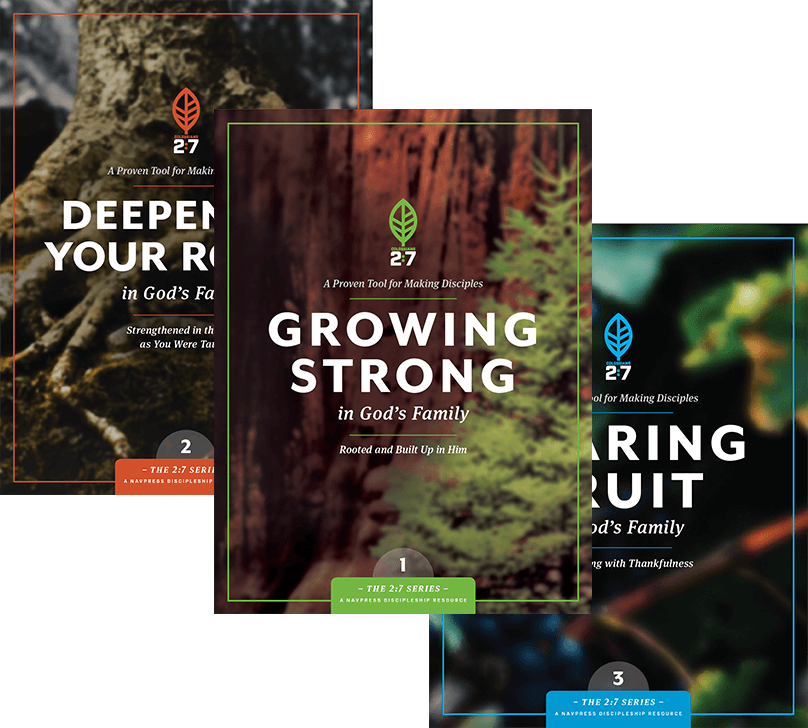 The books were designed for your group to work through and discuss, and are most effective when completed in sequence. Book 2 builds on the work completed in book 1, and book 3 builds on what your group has accomplished in the first two books. You will enjoy each book's biblical and practical approach to discipleship.
As many others have discovered through the years, all who participate in a 2:7 group can expect to experience positive life changes as you study and apply this time-proven material.
View Resources
Growing Strong in God's Family
During this first book, you complete exercises that strengthen your spiritual foundation through enriching Bible study, scripture memory, an effective quiet time approach, and interesting group discussions.
Deepening Your Roots in God's Family
The discipleship training in the second book builds on the work done in Book 1. You learn ways to deepen your own Christian life, approaches for sharing your faith, and you experience an extended time alone with God.
Bearing Fruit in God's Family
You continue to develop and strengthen your walk with Christ. You discuss priorities and life management, learn a versatile tool for explaining the gospel, and sharpen your own salvation testimony.
As a 2:7 Group Member, you have access to printable Scripture memory cards as well as other helpful downloads from each of the books.