Welcome to your training in how to effectively use The 2:7 Series discipleship training material in your church.
This training program covers many areas of preparation, meetings, memorization, testimony writing and critiquing, encouraging group members, even optimal ways to set up the room to engage all your group participants.
We hope you'll take the challenge and complete all of this training program. It will prepare you to effectively lead your own 2:7 Series group.
The 2:7 Online Training will equip you to effectively lead the 3 books of The 2:7 Series.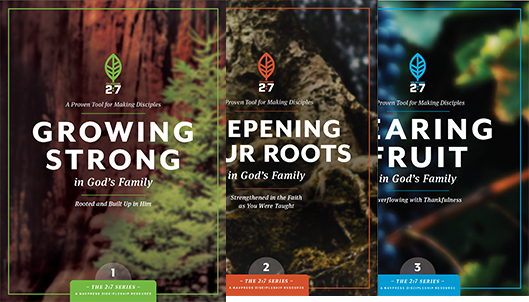 The value of learning together.
You may find it fun and valuable if you and from 1 to 3 of your friends choose to go through this training on your individual computers at the same time. As you each progress through the course you will find it stimulating to discuss various course content, ministry philosophy, and maybe you choose to review scripture memory verses together (perhaps have video chats). Of course, you don't need to be in the same city, state or country. Often a church asks several prospective group leaders to take the training at the same time – for each person to prepare to lead or assist in a 2:7 group.
View Curriculum
Going through the 2:7 Series was life-changing because it enabled me to grow my faith, strengthen my relationship with God, and instill new habits. It also gave me the desire to help others experience these same benefits, which is why I went through the 2:7 Series on-line training. The training provided step-by-step methods for leading others through the curriculum, explained why it works, and gave me valuable tips and insights into the process. The result was that I felt fully prepared and confident to lead a group, which I soon did. It has been a very rewarding experience and I highly recommend the 2:7 Series on-line training.

Dave Wilson

You Will Grow
I knew that God wanted me to lead a group but I wasn't sure if I was ready to lead a 2:7 group on my own. After going through the online Group Leader Training I felt about as equipped as I could have possibly been. The Online Group Leader Training is practical, deliberate, and doesn't put a burden on your time. You are free to do a small amount of work, and come back to it periodically as everything gets saved as you move along little by little. It really was a game-changer for someone like me who was very young in his faith at the time I was preparing to lead a group.

Preston Land

It's a Game-Changer
View All Stories